Samsung S22A450BW 22" Monitor
Enjoy energy savings with the lightweight LED display
The Samsung LED Business Monitor SA450 has been designed to help boost work efficiency, delivering a tailored experience with its choice of viewer settings. The height-adjustable stand ensures that the screen can always be set at the optimal eye level, which enhances the visual experience while also helping maintain the viewer's body posture.
Other features include the tilt and pivot capabilities, which not only increase comfort levels but also introduce new ways of working. The SA450 Monitor can rotate 90 degrees, allowing for more appropriate view depending on the work. So, now you can take convenience and efficiency to amazing heights with the Samsung LED Business Monitor SA450.

Maximize work space with the Adaptor Neck Stand
Samsung's unique and stylish Adaptor Neck Stand is perfect for any modern workplace. Exclusive to the Samsung LED Business Monitor SA450, its slim design ensures that workspace is maximized while also delivering a sophisticated and professional look.
The simple manner in which it attaches to the monitor ensures that the set-up is clean and easy to manage. It is the perfect business solution for numerous situations; it could be for businesses with large amounts of PC-users or operations with restricted space. Either way, the Samsung LED Business Monitor SA450 is ready to enhance work performance.
Go green with Samsung's Adaptor On Off 0W
The ultimate energy saving measure has been created by Samsung with the new Adaptor On Off mode. By simply flicking the mechanical switch found on the Samsung LED Business monitor SA450, you can cut energy output while not using the monitor down to an amazing 0 Watts.
Conventional standby modes reduce energy output to about 1 Watt, but the SA450 goes one stop further for greater results. This helps minimize both environmental impact and operating costs, and is just one more step by Samsung in creating a greener environment.
A monitor design to match business needs
The Samsung LED Business Monitor SA450 has been designed to enhance work conditions and efficiency. Featuring Front Tactile Buttons, the SA450 minimizes costly errors found with high usage, which is a common problem with touch type button monitors.
Furthermore, with its smarter design, users can still access these buttons when wall mounted, which can be an issue when monitors feature side panel buttons. Adding to the visual experience, the SA450 features a Narrow Matt Bezel. This reduces distraction around display area and delivers an experience that is immersive and engaging.

Magic Angle Vertical delivers perfection every time
The Samsung LED Business monitor SA450 feature the Magic Angle Vertical to deliver a picture-perfect screen even when not viewed from directly in front. This means that you can watch your monitor sitting down, standing up or lying on the couch and still enjoy a great view.
And with 20 different angle steps (10 up and 10 down) you will always have a choice to match your position. So, when watching with Magic Angle Vertical, which is even also specialized for LED Business monitor, it feels like you're always standing right in front of the screen… even if you aren't.

Upgrade to the next level with Mega Dynamic Contrast
Experience amazing new levels of color, brilliance and picture quality through the very latest in Mega Dynamic Contrast Ratio. The Samsung LED Business monitor SA450 delivers images so real-to-life that it will transform your whole viewing experience.
Packed with breathtaking 5,000,000:1 contrast ratio, the SA450 ensures that blacks are at their absolute darkest and (with pristine whites) colors are at their brightest. You will immediately notice the crystal clear picture and its unbelievable intensity. It is like an explosion of colors and leaves other screens seeming dull in comparison.
22" Display Panel
The smallest of the modern widescreen monitor sizes, a 22" monitor is perfect if you want something substantially larger than a laptop screen but have limited space or are working with a tight budget. 22" monitors are good for a dual screen setup in tight spaces as anything larger than 24" requires considerably more neck movement.
16:10 Aspect Ratio
Make the most of screen real-estate on a widescreen monitor with the 16:10 aspect ratio.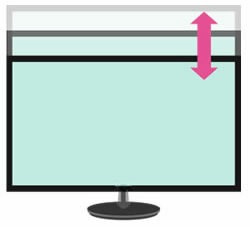 Height Adjustable
Position the monitor at the right height for best comfort and ergonomics with a height adjustable monitor stand.
The right height adjustment on a monitor is the best way to maintain your posture while working or gaming.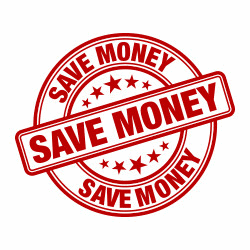 Save up to 70%
Why pay more for new when you can go refurbished and save? With savings of up to 70% on Laptops, Desktops, Servers, Networking and even Apple you would be crazy to think twice. With no significant advances in computer technology in the last 3-5 years there's never been a better time to save by buying refurbished.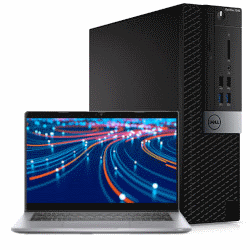 A-Grade Condition
All refurbished units we sell are rigorously tested and cleaned to ensure they are in A-Grade condition and are ready to use straight out of the box. Although some units may have some minor cosmetic blemishes and imperfections such as minor scratches or other minor surface imperfections they have all been tested and are guaranteed to work like new.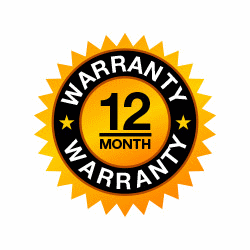 12-Month Warranty
We stand by our products and back any refurbished equipment we sell with a 12-Month Warranty (unless otherwise specified). Our warranty covers any hardware faults that may arise within this period.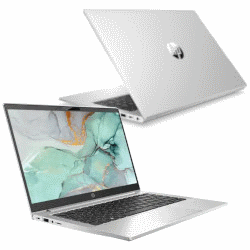 Commercial Quality
All refurbished units we sell are from the tough commercial grade product lines from the leading manufacturers including Dell, HP and Lenovo. When sold new these units have premium pricing reflectively of their superior build quality.
Most refurbished units we sell come from large enterprise and government departments and have had a good life and have been well looked after. Due to this, the longevity of a refurbished commercial units is often higher than that of consumer grade equipment.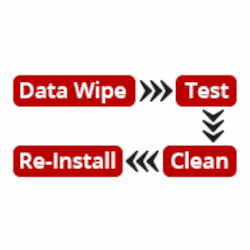 Cleaned, Tested and Reinstalled
All our refurbished products undergo a rigorous quality assurance procedure. This involves the units being wiped of sensitive data, tested, cleaned and re- installed with a fresh genuine copy of the operating system to match the attached Microsoft Certificate of Authenticity (COA). This ensures that the unit you receive is ready to plug in, turn on and use straight out of the box.
We are a Microsoft Registered Refurbisher so you can have peace of mind that any refurbished unit you purchase from us will meet your expectations and be up to the task.