Power through your day
Overview
With a new compact design, the HP ProBook 450 Laptop PC delivers commercial performance, security, and durability to professionals at growing companies who move from desk to meeting room to home.
A new design that fits modern workstyles
The compact, light, slim chassis with aluminum components is easy to carry from place to place. Enjoy an over 87-percent screen-to-body ratio and a quiet, responsive keyboard.
Multi-layered security protection
Your growing business requires the protection of a PC with commercial-grade security features. The HP ProBook 450 is enhanced with security and privacy features from the BIOS up.
Power that lasts
Equipped with the latest Intel processor and high- performance memory, the HP ProBook 450 drives performance with long battery life and high-speed solid-state drives.
Features
Modern design for today's workstyles
11th Generation Intel Core i7 processor
Windows 10 Pro 64
15.6-inch diagonal, Full HD (1920 x 1080), micro-edge, anti-glare, 250 nits, 45% NTSC
8 GB DDR4-3200 SDRAM (1x 8 GB)
256 GB PCIe NVMe SSD
NVIDIA GeForce MX450
Ports and Interface
3x Super Speed USB Type-A 5Gbps signaling rate (1 charging, 1 power)
1x SuperSpeed USB Type-C 10Gbps signaling rate (USB Power Delivery, DisplayPort)
1x RJ-45
1x headphone/microphone combo
1x HDMI 1.4b
1x AC power
Backlit keyboard
The keys in backlit keyboard are illuminated for ease of viewing in dim or completely dark conditions.
Bluetooth
Bluetooth-enabled PC allows you to connect wirelessly to other devices using Bluetooth to share and transfer files.
Solid State Drive
SSDs provide a huge performance advantage - they're faster to start up, faster to shut down, and faster to transfer data.
15.6" Display
Make working on the go a breeze with a large 15.6" display. A perfect choice for someone wanting portability without sacrificing productivity.

Intel® Core™ Series CPU
Make no compromises when it comes to performance with an Intel® Core™ series CPU. A significant step-up from Intel® Celeron™ and Pentium™ CPUs, an Intel® Core™ Series CPU is an excellent choice for daily personal or office use for anything from the simplest to most demanding computing tasks, etc.
Intel® Core™ i7 (11th Gen) CPU
Enjoy the next level of processing power with the late generation Intel® Core™ i7 CPU. Get top-notch performance in anything from heavy personal and office use to content creation and high-end gaming.
Hyper-threading Support
Make the most of server multi-tasking with 2 virtual CPU cores for every physical core for a high level of parallelism and productivity. Remember to ensure your server is appropriately licensed as some software is licensed based on the number of virtual rather than physical CPU cores.
8GB RAM
Multi-task and do everything without compromises with 8GB RAM. 8GB is more than enough for anything day-to-day that's not high-end gaming, CAD, graphic design or IT work.
Ultra High-Performance NVMe PCIe SSD Storage
Get the highest level of performance and reliability with NVMe PCIe SSD storage. SSD storage enables considerably faster startup as well as faster application opening times and faster file storage and retrieval, resulting in a much better overall user experience.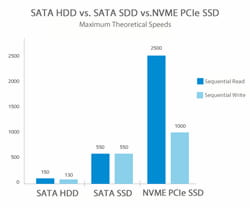 Enjoy up to 5-10 times faster read/write performance with substantially lower risk of drive failure over conventional HDD storage and up to 5 times faster read and 2 times faster write performance over conventional SATA SSDs.
NVidia Dedicated Graphics
Experience higher performance doing graphics heavy tasks with built-in NVidia Dedicated Graphics.