HP Spectre 13
The HP Spectre 13 is designed for transportability, coming in a compact size that's ideal for taking on the go, whether you're on the way to school, university, work or simply a nice day in the park. You can use it in a traditional laptop format or in tablet mode, so you can experience the 90% screen to body ratio the way you choose. It has an i5-8250U 1.60GHz processor, 8GB of RAM, and 256GB SSD for streamlined multitasking.
If you need more processing power, the CPU can be adjusted to 3.4 GHz using Intel's Turbo Boost technology.
The 13.3" display features a 1920x1080 resolution and is driven by integrated Intel HD graphics that offer sharp, clear content reproduction for document editing, video playback, and much more.
I/O Ports
You'll also be able to output video using its built-in HDMI port. For long term storage and protection of your files, this system has a 256GB Solid State Drive. If you need more storage space, the HP Spectre has multiple USB ports suitable for expanison drives.
Connect Peripherals
Connect peripherals such as mice, keyboards, flash drives, and more to its USB C, USB 2.0 and USB 3.0 Ports. If you run out of USB ports or would rather save them for other devices, you can pair additional devices via Bluetooth 4.1 technology.
Stay Connected
Internet connectivity is achieved using 802.11ac Wi-Fi or the Gigabit Ethernet jack for a more stable and reliable wired connection.
Other Features
Other integrated features include a webcam, speakers, microphone, touchscreen and a 3.5mm microphone and headphone combo jack. The operating system installed within this notebook is Windows 10 Pro (64-bit).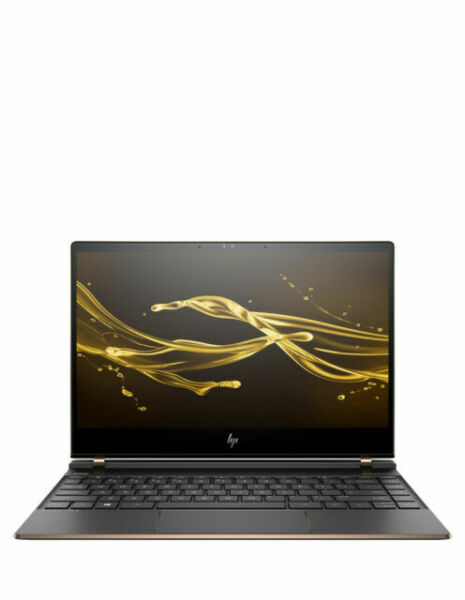 Intel i5 CPU
Considered the workhorse of the Intel® Core™ i-Series range, make no compromises with an Intel® Core™ i5 CPU. Get great performance in anything from heavy personal and office use to higher-end mainstream gaming.
FHD
1080p (1920x1080) also known as Full High Definition is a step up from high definition and used for media consumption and general gaming for many types of displays including televisions, laptops and computer monitors.
Touch Screen
Through simple gestures, control the information shown by touching the screen with a special stylus or one or more fingers.