HP EliteDesk 800 G1 SFF
The solution for diverse business demands
The new way to do business. Impress and perform like never before—and meet a variety of business demands—with highly customizable tools, new features and a stylish new design.
Easily share your internet connection with your devices and help colleagues get online fast with HP Wireless Hotspot.
Share presentations, videos, and other content—no cables needed. WiDi Intel Wireless Display lets you connect your EliteDesk to your projectors and displays wirelessly.
The new, slim removable hard drive lets you secure your most important data when you're away
from the office.
The optional PCI port helps ensure broad compatibility with existing technology investments.
Fast-track your performance
Multitask and move your business forward with the latest Intel processors. Quickly open new files, switch applications, and enjoy less wait time with solid-state drives and solid-state hybrid drive options.
Power through your day with speed and performance. Get the latest in processing technology with your choice of 4th generation Intel Core™ processors6 with vPro7 support.
Watch your inbox while working on other tasks. There's plenty of screen room for all of your work with support for multiple displays.
Intel Smart Response Technology (SRT), a disk cache solution, delivers similar performance associated with Solid State Drives while retaining the data storage capacity of today's large Hard Disk Drives.
Make the most of virtual conferencing. Bring work to life through immersive surround sound with deep, rich bass and crystal clear dialog using DTS Studio Sound software.
Heavy security, exceptionally managed
Keep it secure, keep it simple. IT efficiency reigns supreme when it's backed by a full portfolio of HP Client Security12 and Intel vPro7 management features.
No more remembering passwords. HP Password Manager13 lets you quickly log in to various online accounts. Now your passwords can be longer and more secure.
Save your data. RAID configurations utilize dual storage drives to automatically back up and help protect your sensitive data.
Stay up and running. HP BIOS Protection16 offers enhanced protection against virus attacks and other security threats, and is designed to help prevent data loss and reduce downtime.
Reliability for the long haul
Count on the support you need to get long-term value out of your investment. This work-ready PC is designed for a long lifecycle, with platform stability up to 30 months.
Great technical support isn't about solving problems. It's about getting you back to business fast and elimination stress. HP Elite Premium Support provides near-instant phone access to an eliteaccredited, US-based specialist at any time, any day of the year - and no extra cost. Simply call us at 1.866-625.1175
HP EliteDesk PCs are rigorously tested to help ensure reliability. During the HP Total Test Process, our PCs experience 115,000 hours of performance trials to help get you through your business day.
Intel i5 CPU
Considered the workhorse of the Intel® Core™ i-Series range, make no compromises with an Intel® Core™ i5 CPU. Get great performance in anything from heavy personal and office use to higher-end mainstream gaming.
Solid State Drive (SSD)
The big benefit of SSD over HDD is performance. SSDs also have no moving parts so risk of failure is much lower.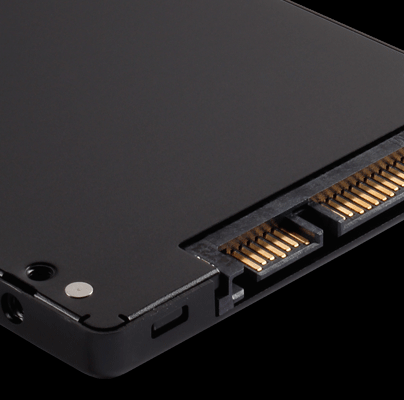 Microsoft Windows 10
Get more of what you love with a new Windows PC. More speed, more security, more of what you need to get things done. Enjoy the latest Windows 10 features and included ongoing security.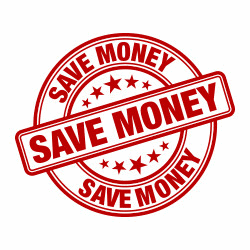 Save up to 70%
Why pay more for new when you can go refurbished and save? With savings of up to 70% on Laptops, Desktops, Servers, Networking and even Apple you would be crazy to think twice. With no significant advances in computer technology in the last 3-5 years there's never been a better time to save by buying refurbished.
---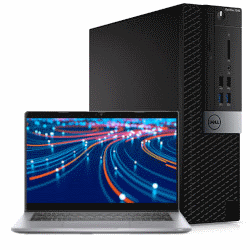 A-Grade Condition
All refurbished units we sell are rigorously tested and cleaned to ensure they are in A-Grade condition and are ready to use straight out of the box. Although some units may have some minor cosmetic blemishes and imperfections such as minor scratches or other minor surface imperfections they have all been tested and are guaranteed to work like new.
---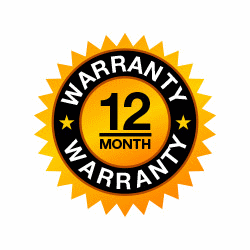 12-Month Warranty
We stand by our products and back any refurbished equipment we sell with a 12-Month Warranty (unless otherwise specified). Our warranty covers any hardware faults that may arise within this period.
---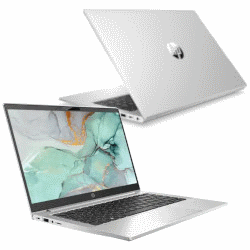 Commercial Quality
All refurbished units we sell are from the tough commercial grade product lines from the leading manufacturers including Dell, HP and Lenovo. When sold new these units have premium pricing reflectively of their superior build quality.
Most refurbished units we sell come from large enterprise and government departments and have had a good life and have been well looked after. Due to this, the longevity of a refurbished commercial units is often higher than that of consumer grade equipment.
---
Cleaned, Tested and Reinstalled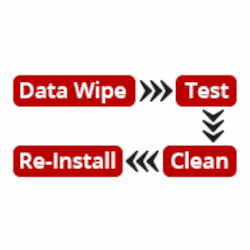 All our refurbished products undergo a rigorous quality assurance procedure. This involves the units being wiped of sensitive data, tested, cleaned and re- installed with a fresh genuine copy of the operating system to match the attached Microsoft Certificate of Authenticity (COA). This ensures that the unit you receive is ready to plug in, turn on and use straight out of the box.
We are a Microsoft Registered Refurbisher so you can have peace of mind that any refurbished unit you purchase from us will meet your expectations and be up to the task.