HP EliteBook 840 G5
A distinctively designed notebook that lets you work anywhere
Beautifully crafted with the modern professional in mind, the highly secure and manageable HP EliteBook 840 offers powerful collaboration tools, for being productive on the go or at the office. This ultra-slim, precision-crafted aluminium laptop with a narrow border display goes anywhere and looks great doing it.
Brilliant new design
This ultra-slim, precision-crafted aluminum laptop with a narrow border display goes anywhere, and looks great doing it.
Built on a secure foundation
Protect your PC against the evolving malware threats of the future, with selfhealing, hardware-enforced, and manageable security solutions from HP. From the BIOS to the browser HP Sure Start Gen4 and HP Sure Click help secure your PC.
Crystal-clear collaboration
Calls sound crisp and clear with advanced collaboration features like HP Noise Cancellation. Loud top-firing speakers produce rich sound. The world-facing third microphone and collaboration keys help make PC calls productive.
A modern docking solution
Quickly transition to desktop productivity with a single USB-C™ cable.
Features
Power through your day with Windows 10 Pro and the powerful security, collaboration and connectivity features from HP
Help speed up demanding business applications with an 8th Gen quad-core Intel® Core™ processor
Protect your PC with the hardware-enforced self-healing protection of HP Sure Start Gen4 that automatically recovers the BIOS
Keep your critical applications and processes running even if malware tries to shut them down with self-healing protection
Help protect your PC from websites and in-browser .pdf files infected with malware, ransomware, or viruses with HP Sure Click .

Intel® Core™ Series CPU
Make no compromises when it comes to performance with an Intel® Core™ series CPU. A significant step-up from Intel® Celeron™ and Pentium™ CPUs, an Intel® Core™ Series CPU is an excellent choice for daily personal or office use for anything from the simplest to most demanding computing tasks, etc.
Hyper-threading Support
Make the most of server multi-tasking with 2 virtual CPU cores for every physical core for a high level of parallelism and productivity. Remember to ensure your server is appropriately licensed as some software is licensed based on the number of virtual rather than physical CPU cores.
8GB RAM
Multi-task and do everything without compromises with 8GB RAM. 8GB is more than enough for anything day-to-day that's not high-end gaming, CAD, graphic design or IT work.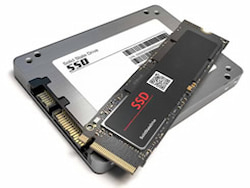 High-Performance SSD Storage
Get the best performance and reliability with SSD storage. SSD storage enables considerably faster startup as well as faster application opening times and faster file storage and retrieval, resulting in a much better overall user experience.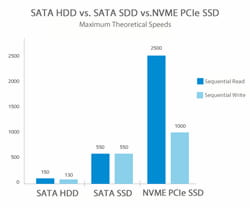 Enjoy up to 5-10 times faster read/write performance with substantially lower risk of drive failure over conventional HDD storage.
256GB of SSD Storage
Strike a balance between storage capacity and budget with 256GB of SSD storage. 240/256GB of SSD storage is considered sufficient for most use cases and is generally the entry level for most modern computers. For additional storage consider and external drive, upgrading to a larger capacity SSD or a device with larger storage capacity.