Custom Gaming Desktop PC
The perfect machine for the casual gamer
Fully assembled by our IT technicians
Tested and ready-to-go out of the box
Brand New Cougar MX410 Mesh-G RGB Case
Four RGB Fans pre-installed (3 Front, 1 Rear)
RGB Control Button to change the colour of the LEDs
3.20GHz Quad-core Intel Core i5, Turbo Boost up to 3.60GHz
8GB of Memory & 256GB of SSD Storage
Case does not feature CD/DVD Drive
Plenty of USB Ports for all peripherals
HDMI, DisplayPort & DVI-D connections
Fresh install of Windows 10 Home
Worry less with our 12 months warranty
MX410 Mesh-G RGB
Powerful Airflow and Compact Mid-Tower Case
MX410 Mesh-G RGB sports an attractive and compact design with a massive mesh front panel for better air flow performance. The integrated lighting button with built-in LED controller allows it to display amazing lighting effects. With a massive tempered glass left panel, MX410 Mesh-G RGB showcases a clean and tidy build. It has wider but more compact and powerful design, which allows you to have high-performance and abundant storage space.
Three USB 3.0 | Two USB 2.0 | Mic & Audio | RGB Control Button | Four RGB fans
Intel Core i5-6500
Intel inside, more wins outside
6th Generation Intel Core processors are feature packed with built-in security ready to take your creativity, gaming and workloads to the next level. With 6th Generation Intel Core processors you can play your favourite games in better detail & faster frames for the ultimate gaming experience.
4 Cores / 4 Threads | 3.20GHz Base frequency / 3.60GHz Turbo frequency
GeForce GTX 1650
The Gaming Supercharger
The GeForce GTX 1650 is built with the breakthrough graphics performance of the award-winning NVIDIA Turing architecture. It's a supercharger for today's most popular games, and even faster with modern titles. Step up to better gaming with GeForce GTX. Get game ready with performance that's up to 2X the GeForce GTX 950 and up to 70% faster than the GTX 1050 on the latest games.
4GB of GDDR5 Video Memory | DVI-D, HDMI & DisplayPort | Supports multiple displays

Intel® Core™ Series CPU
Make no compromises when it comes to performance with an Intel® Core™ series CPU. A significant step-up from Intel® Celeron™ and Pentium™ CPUs, an Intel® Core™ Series CPU is an excellent choice for daily personal or office use for anything from the simplest to most demanding computing tasks, etc.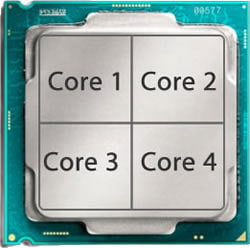 Quad-Core
Enjoy better multi-tasking with 4 Cores for a higher level of parallelism and productivity.
256GB of SSD Storage
Strike a balance between storage capacity and budget with 256GB of SSD storage. 240/256GB of SSD storage is considered sufficient for most use cases and is generally the entry level for most modern computers. For additional storage consider and external drive, upgrading to a larger capacity SSD or a device with larger storage capacity.
NVidia Dedicated Graphics
Experience higher performance doing graphics heavy tasks with built-in NVidia Dedicated Graphics.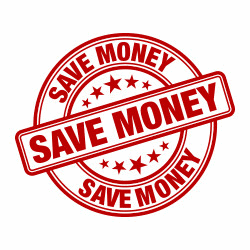 Save up to 70%
Why pay more for new when you can go refurbished and save? With savings of up to 70% on Laptops, Desktops, Servers, Networking and even Apple you would be crazy to think twice. With no significant advances in computer technology in the last 3-5 years there's never been a better time to save by buying refurbished.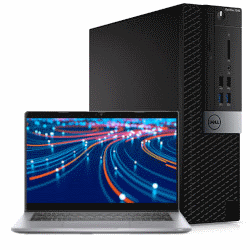 A-Grade Condition
All refurbished units we sell are rigorously tested and cleaned to ensure they are in A-Grade condition and are ready to use straight out of the box. Although some units may have some minor cosmetic blemishes and imperfections such as minor scratches or other minor surface imperfections they have all been tested and are guaranteed to work like new.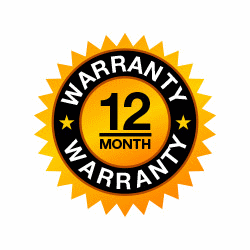 12-Month Warranty
We stand by our products and back any refurbished equipment we sell with a 12-Month Warranty (unless otherwise specified). Our warranty covers any hardware faults that may arise within this period.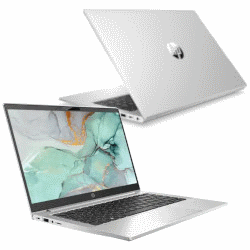 Commercial Quality
All refurbished units we sell are from the tough commercial grade product lines from the leading manufacturers including Dell, HP and Lenovo. When sold new these units have premium pricing reflectively of their superior build quality.
Most refurbished units we sell come from large enterprise and government departments and have had a good life and have been well looked after. Due to this, the longevity of a refurbished commercial units is often higher than that of consumer grade equipment.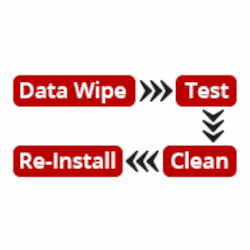 Cleaned, Tested and Reinstalled
All our refurbished products undergo a rigorous quality assurance procedure. This involves the units being wiped of sensitive data, tested, cleaned and re- installed with a fresh genuine copy of the operating system to match the attached Microsoft Certificate of Authenticity (COA). This ensures that the unit you receive is ready to plug in, turn on and use straight out of the box.
We are a Microsoft Registered Refurbisher so you can have peace of mind that any refurbished unit you purchase from us will meet your expectations and be up to the task.