VP228NE
1ms Quick Response Time Monitor
21.5" Full HD monitor with 1ms (GTG) quick response time to eliminate ghosting and tracers for more fluid video playback
ASUS-exclusive GamePlus provides Crosshair and Timer function for better gaming experience
The TÜV Rheinland-certified ASUS Flicker-Free and Low Blue Light technologies
Robust connectivity including DVI-D and D-sub ports
Superior Image Quality Meets Classic Elegant Design
VP228NE 21.5" Full HD monitor with 100,000,000:1 high contrast ratio, ASUS-exclusive SplendidPlus and VividPixel technologies are optimized for the finest image and color quality. This approach extends to the sturdy stand and slim profile without compromising style in ensuring stability and durability.
100,000,000:1 ASUS Smart Contrast Ratio
Dynamically enhances the display's contrast by adjusting the luminance of the backlight to achieve the darkest black and brightest white – delivering lifelike images.
1ms Quick Response Time
1ms (GTG) quick response time eliminates ghosting and tracers for more fluid video playback.
ASUS-exclusive GamePlus Technology
When it comes to design, ASUS always has customers in mind – the ASUS VP228NE features the ASUS-exclusive GamePlus hotkey with crosshair and timer functions. Gamers can select four different crosshair types to suit the gaming environment; while the latter keeps players aware of the elapsed time in real-time strategy games. These tools allow gamers to practice and improve on their gaming skills.
ASUS-exclusive SplendidPlus Technologies
We've raised the bar by incorporating some of our proprietary technologies into the ASUS VP228NE to give you a truly vivid visual experience. The VP228NE features the new SplendidPlus™ Video Intelligence Technology that optimizes videos and images by enhancing color brightness, contrast, and sharpness. SplendidPlus™ features two new modes – Reading and Darkroom – in addition to the Scenery, Standard, Theater, sRGB, and Night View modes. Low-blue Light and Flicker-free technologies also reduce the strain on your eyes after long periods of use.
VividPixel Technology for Best Picture Quality
ASUS VividPixel Technology helps enhance image outlines and reduce noise bars for crystal-clear and detail-oriented viewing.
Protect your eyes with ASUS Eye Care technology
Ultra-low Blue Light Monitor
The TÜV Rheinland-certified ASUS Blue Light Filter protects you from harmful blue light, and you can easily access its four different filter settings via a hotkey. VP228NE has undergone stringent performance tests and has been certified by TÜV Rheinland laboratories, a global provider of technical, safety, and certification services, to be flicker-free and to emit low blue light levels
Flicker-free Technology
It's time to say goodbye to those tired, strained eyes. VP228NE features TÜV Rheinland-certified ASUS Flicker-Free technology to reduce flicker for a comfortable viewing experience. This technology helps minimize instances of eyestrain and other damaging ailments, especially when you spend long, countless hours in front of a display watching favorite videos.
22" Display Panel
The smallest of the modern widescreen monitor sizes, a 22" monitor is perfect if you want something substantially larger than a laptop screen but have limited space or are working with a tight budget. 22" monitors are good for a dual screen setup in tight spaces as anything larger than 24" requires considerably more neck movement.
1ms Response Time
With a fast response time of 1ms, you will notice a remarkable improvement in the gaming experience, including how smooth, fast, and responsive-to-control your gameplay is.
16:9 Aspect Ratio
Strike the right balance between physical space and screen real estate with 16:9 aspect ratio, the most widely used across widescreen monitors.
DVI Input
Take advantage of the clarify from digital video signal input with the tried and trusted DVI interface.
Consider an inexpensive DP-to-DVI Adapter or HDMI-to-DVI Adapter to convert from a DisplayPort or HDMI output on your device.
VESA Mount
Customize the height, angle, and depth of your monitor by combining your VESA mountable monitor with a VESA arm. VESA mounting is great for clearing up desk space while improving sit-stand versatility and reducing eye strain and neck pain.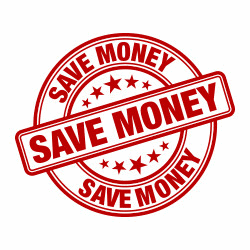 Save up to 70%
Why pay more for new when you can go refurbished and save? With savings of up to 70% on Laptops, Desktops, Servers, Networking and even Apple you would be crazy to think twice. With no significant advances in computer technology in the last 3-5 years there's never been a better time to save by buying refurbished.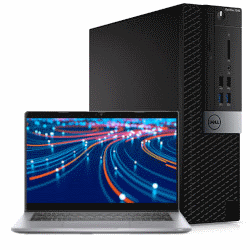 A-Grade Condition
All refurbished units we sell are rigorously tested and cleaned to ensure they are in A-Grade condition and are ready to use straight out of the box. Although some units may have some minor cosmetic blemishes and imperfections such as minor scratches or other minor surface imperfections they have all been tested and are guaranteed to work like new.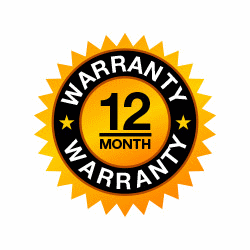 12-Month Warranty
We stand by our products and back any refurbished equipment we sell with a 12-Month Warranty (unless otherwise specified). Our warranty covers any hardware faults that may arise within this period.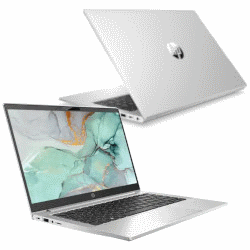 Commercial Quality
All refurbished units we sell are from the tough commercial grade product lines from the leading manufacturers including Dell, HP and Lenovo. When sold new these units have premium pricing reflectively of their superior build quality.
Most refurbished units we sell come from large enterprise and government departments and have had a good life and have been well looked after. Due to this, the longevity of a refurbished commercial units is often higher than that of consumer grade equipment.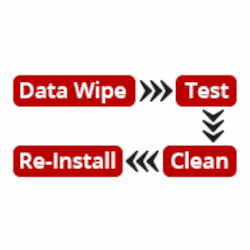 Cleaned, Tested and Reinstalled
All our refurbished products undergo a rigorous quality assurance procedure. This involves the units being wiped of sensitive data, tested, cleaned and re- installed with a fresh genuine copy of the operating system to match the attached Microsoft Certificate of Authenticity (COA). This ensures that the unit you receive is ready to plug in, turn on and use straight out of the box.
We are a Microsoft Registered Refurbisher so you can have peace of mind that any refurbished unit you purchase from us will meet your expectations and be up to the task.