Acer Nitro 50 Gaming Desktop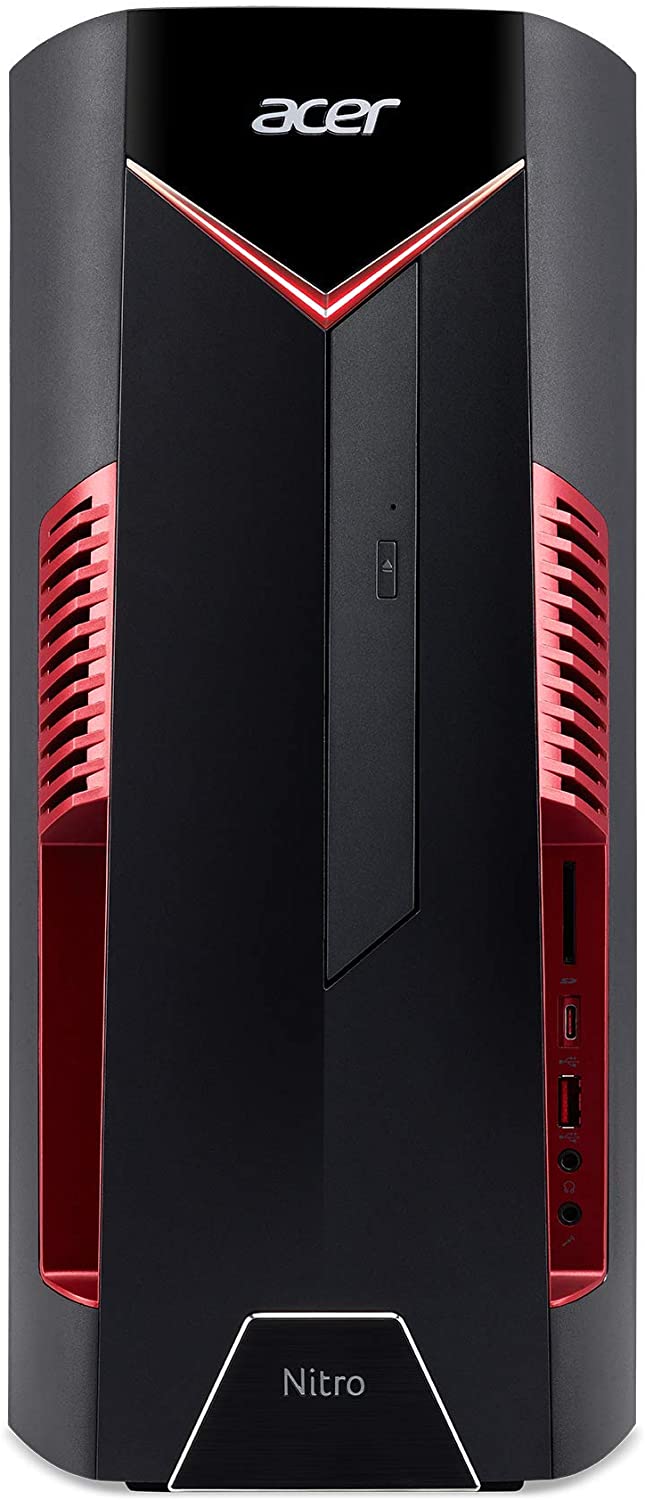 Ready, Set, Game
The Nitro 50 desktop delivers powerful performance for lag-free gaming and smooth graphics intensive tasks.
Powered by an Intel hexa-core processor, ample RAM, and featuring an Nvidia GeForce video card, the Acer Nitro N50-600 Desktop is an impressive and reliable option for your extended gaming sessions.
Key Features:
The Acer Nitro N50-600 Desktop has a Core i5-8400 processor and 8GB RAM to easily handle various software and video games.
Equipped with a 240GB SSD and a 1TB HDD, the Nitro N50-600 desktop provides fast boot-ups and ample storage space for your multimedia content.
This Acer desktop has a GTX 1050ti graphics card to deliver sharp and vibrant visuals when playing your favourite games, watching movies, or viewing other content.
Pre-loaded with Windows 10 Home, the N50-600 Desktop lets you quickly visit various websites through the Microsoft Edge web browser* and conveniently access Cortana, your personal digital assistant.
Built to Conquer
Dynamic contours and burning red LEDs set the mood for an intense journey into the realm of gaming.
Wireless Charging
Wirelessly charge mobile devices on the Qi wireless charging pad.
Shattering Sound
Sound BlasterX 360° drops crushing audio directly into the mix with a comprehensive tool set for superior sound control.
Process a New Reality
Game, stream, and design like a pro with an 8th Gen Intel Core i5.
Lightning Fast Graphics
Unleash the gamer inside with graphics cards that deliver supercharged images and VR that's out of this world.
Advanced Connectivity
Optimise your online gaming and keep the data flowing fast and strong with the force of Dragon LAN.
Intel i5 CPU
Considered the workhorse of the Intel® Core™ i-Series range, make no compromises with an Intel® Core™ i5 CPU. Get great performance in anything from heavy personal and office use to higher-end mainstream gaming.
Solid State Drive (SSD)
Enjoy 10x+ read/write performance and lower risk of failure with SSD storage. SSDs are your best choice for reliability, and storage capacity when choosing a unit. These enable faster startup, seamless storage, and a greater user experience.